NIBUTANI Ita (Wood Trays)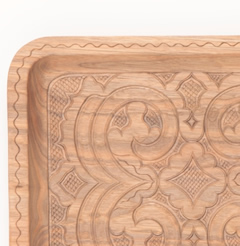 Nibutani Ita is a craft that has been passed down for more than 100 years by the Ainu people living in the Saru River basin. Records indicate that round and half-moon shaped trays were presented by the people of this region in the latter half of the 19th century.
Feature
These beautiful trays made of flat wood are practical items that can be used in everyday life. The wood is carved with traditional Ainu motifs, including the moreunoka spiral motif, aiushinoka thorn motif, shikunoka eye motif and ramuramunoka scale motif.
How to make
First, raw wood is carved into the shape of a tray and left to dry for three to four years. In the itatori process, the surface is flattened and the size to be used is cut out. In the katadori process, the rough shape is carved, and the base and corners are formed. In the monyobori process, the design is sketched onto the wood, and the lines are carved following the sketch. The design is emphasized by carving deeper lines, and the more important patterns are surrounded by a second set of lines to make the carving more expressive. Finally, tiny squares are scored and carved to create the scale pattern.