IWAYADO Tansu (Chests)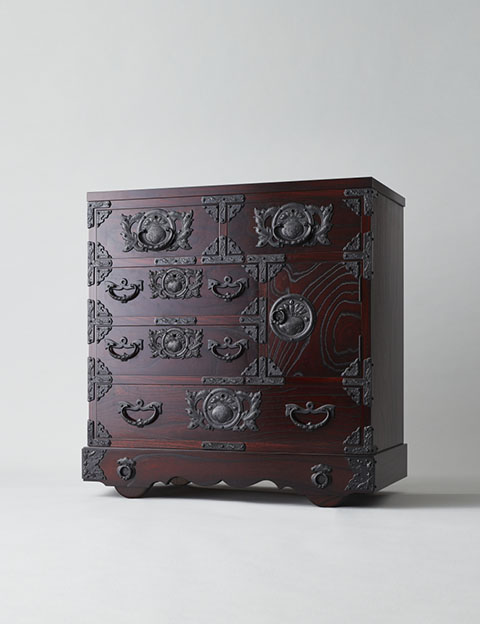 The origins of Iwayado chests date back to the end of the 18th century when the custodian of Iwayado castle had his retainers look into the commercial potential of wooden furniture, including chests with lids and others riding on palettes fitted with wheels.
Iwayado was built on a long tradition of metal casting and wood craft in what is now Esashi. The area was the stronghold of Kiyohira, who was a first-generation member of the Oshu Fujiwara family that lived in Iwayado for thirty years before moving to Hiraizumi where he helped to establish the Hiraizumi culture at the end of the Heian era (794-1185).

Iwayado chests are made of zelkova and paulownia wood. The main facings are lacquered before being fitted with beautiful hand-cut and beaten metal fittings. Some Iwayado chests have locks and can therefore function as safes. Considered one of Japan's most representative traditional chests, Iwayado chests come in a variety of sizes and are fitted with drawers.
Feature
Wood from zelkova and paulownia trees is used as the raw material for Iwayado chests. The wood is finished with lacquer, and then set with hammered and engraved metal finishings that possess a strong, enduring beauty. Because the chests are sometimes used as a safe, metal finishings with locks are also attached. Iwayado chests are majestic representatives of Japan's traditional chest and drawer craft.
How to make
The wood is first dried naturally and then artificially. Solid boards are used to build the chests whereas boards with a thickness greater than 18 mm are used to make the drawers. Once assembled, the surface of the chest is rubbed with a clear lacquer and finished with a clear kijiro-nuri lacquer, before hammered metal finishings are applied.