Toyooka Willow Basketry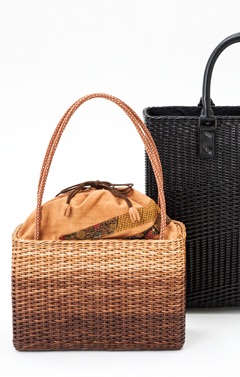 The craft can be traced back to the 1st century AD, and there is a willow basketwork box, the Tajima no Kunisan Yanagibako, among the treasures held at the Shoso-in Repository in Nara.
The craft began in earnest, however, when baskets were made from Salix koriyanagi, a willow which grows in an area washed by the waters of the Maruyama river, and when a castle was built in Toyooka, the craft developed into an industry. During the Edo period, the Kyogoku family led the local clan and protected and promoted the craft, establishing a monopoly, which resulted in this basketry being known throughout the country.

There are six different types of basic weaving, 33 types of in-fill weaving, and 18 different ways of finishing off the edges of these baskets. Each one makes the best use of the materials used, the choice of weave being that of the maker. The fact that the willow and cane become flexible when immersed in water and less prone to bend when dried is utilized to the full.
Feature
The basket-making techniques employed by craftsmen hand-weaving individual pieces highlighting the flavor of the natural wood, its strong and supple texture as well as its softness and resilience, include six kinds of cable stitches, 33 kinds of platting stitches and 18 kinds of joints which make it possible to create a variety of different objects.
How to make
Kiryu zaiku is woven taking advantages of the properties of "kori-yanagi" willow and rattan woods, which soften when soaked in water and harden when dried. Wicker cases and bags are made by weaving willow pieces together with hemp yarn and finished by hooking the edges. As for baskets, after the bottom has been woven, they are attached to a wooden mold, fixed in place by tying them with rope and after the sides are woven the wooden mold is removed and joining is done; they are then completed with a variety of techniques being used at each stage.