Oitama Pongee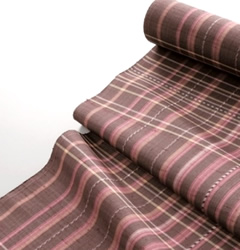 While dating back to the 8th century, the weaving of this cloth did not become firmly established in this area of Yamagata Prefecture until the beginning of the 17th century. This was when Uesugi Keisho, the lord of the fief, encouraged its weaving.
There are a number of individual cloths being produced. There is the traditionally woven shirataka itajime kogasuri, an unassuming ikat cloth and another small motif ikat called yoneryu itajime kogasuri; and a weft ikat and another with ikat threads in both the warp and weft. Safflower is just one of the natural dyes used for a pongee cloth using these dyestuffs. Inevitably, it is the handmade look of these cloths which is now attracting much attention among consumers.

Oitama Tsumugi is actually a generic name for six individual cloths, namely yoneryu itajime kogasuri, shirataka itajime kogasuri, yokosogasuri, heiyougasuri, kusakizome tsumugi, and benibana tsumugi. All are yarn dyed and plain woven.
Feature
All textiles produced in the Oitama region of Yamagata prefecture are known as Oitama Tsumugi textiles. There are six styles of textiles: Yoneryuitajime-kogasuri, Shiratakaitajime-kogasuri, Yokoso-gasuri, Heiyo-gasuri, and Kusakizome-tsumugi, and Benibana (Canola)-tsumugi. All of the textiles use pre-dyed threads woven in a plain weave.
How to make
Yonezawa city, Nagai city and Shirataka town in Yamagata prefecture are each traditional centers of Oitama Tsumugi textiles, each with their own unique weaving techniques. The traditional regional techniques can be separated as follows:
Yonezawa city produces Kusakizome-tsumugi and Benibana-tsumugi, Nagai city produces Yokoso-gasuri and Heiyo-gasuri, and Shirataka town produces Yoneryuitajime-kogasuri and Shiratakaitajime-kogasuri.