KURUME Kasuri (Ikat)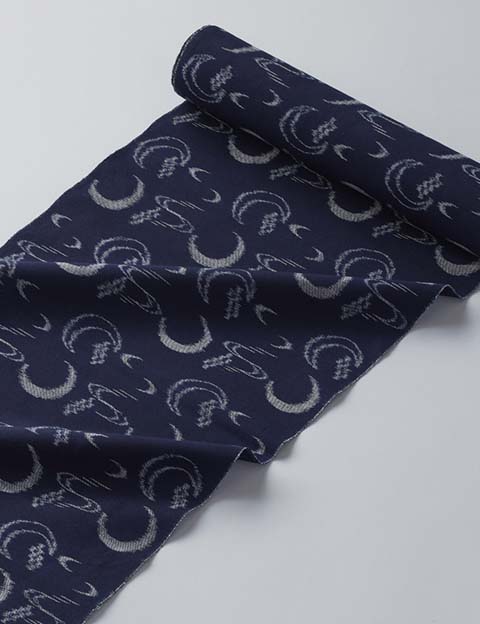 Kurume Kasuri fabric dates back to the beginning of the 19th century, when a 12 year old girl named Inoue Den was inspired by a scrap of old material. Later, the Kurume clan in the south west of present-day Fukuoka Prefecture promoted its production.
Improvements were also made by Otsuka Taizo, who invented a picture form of ikat, and Ushijima Noshi, who developed a method of weaving a fine ikat pattern. Thanks to them, Kurume Kasuri has developed as a cotton ikat using distinctive techniques such as picture ikats and ikats with large or small patterns that cannot be found in other varieties.

This fabric is a yarn-dyed material. Because ikat is woven with cotton threads that have been tied before dyeing, the designs have depth. The unpretentious style has wide applications, including kimono, small accessories and for articles within the home.
Feature
Kasuri indicates a kind of textile that has its threads dyed beforehand. The threads are dyed by ikat techniques and woven to produce elaborate designs. Their simple texture is widely used in kimonos, accessories and interiors.
How to make
The thread is manually adjusted and dyed before weaving to create the patterns, applying resistance to the fabric by bundling them together.