SHURI Ori (Textiles)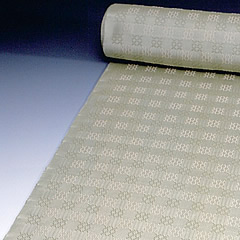 Trade flourished between the Kingdom of Ryukyu and China and South East Asia during the 14th and 15th centuries, promoting the exchange of weaving techniques. A number of textiles came into being, each with their own characteristics nurtured by the Okinawan climate over the centuries. One of these was a fabric produced in Shuri.
The court nobility and warrior families of this castle town found its color, patterns and quality very appealing. The stylish cloth of boundless beauty is still being woven today.

Perhaps the most representative feature of Shuri Ori is the colorful weaving of everything from figured cloths to ikats. Among them, hanakura ori and doton ori were produced for the royal family and court nobility's exclusive use, and were only woven in Shuri. Shuri Fabrics are still woven for kimono and obi sashes and some table centerpieces.
Feature
Shuri Ori is a colorful textile in every aspect of the fabric. Among them, hanakura ori and doton ori are woven exclusively in Shuri and worn only royalty.
How to make
Natural fibers (silk, cotton, hemp, etc.) are dyed with plants including garcinia, rhaphiolepis, myrica, smilax, etc., to create traditional clothing such as Shuri kasuri, shuri hana ori, Shuri doton ori, Shuri hanakura ori, Shuri Minsaa and more.