Osaka Transoms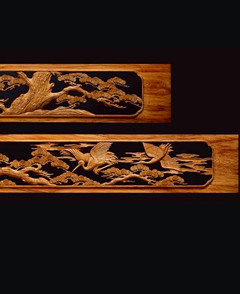 The origins of this craft date back to the beginning of the 17th century and the traditional woodworking skills that can be seen at Osaka's Hijiri Shrine and Shiteno-ji temple. Gradually during the 18th century, transoms were mainly introduced into merchant's houses not only for practical reasons of ventilation and lighting but also as a decorative element capable of raising the quality of interior space, especially in rooms where guest would be received.

There are many types of transom. The bold carving of one type helps to bring out the best qualities of the grain of the special Yaku cedar from which it is made. A wonderful balance between the grain of paulownia and open-work in the design is achieved in another. Some are strict bars or a repeat of one element, others are grills. Still others are not much more than a frame but all are pieces of decoration with a function. Despite the fall in the number of traditional houses being built, they make screens, picture frames that is so special to the Japanese house interior.
Feature
Osaka ranma include "chokoku-ranma" carved transoms which perfectly highlight the Yakusugi wood's grain, "sukashibori-ranma" open work transoms where the bark of the pawlonia is blended into the work, "osa" transoms adorned with patterns, "kumiko-ranma" transoms and the unique "nuki-ranma" transoms, all combining decorative functions with air- exchange functionality, which makes them very suitable for Japanese houses.
How to make
The cedar, pawlonia and cypress woods used as raw materials are cut to the required size after having been naturally dried and, if sketches are drawn, they are drawn directly with a brush and then the surface is carved following the sketch. Carving is done three-dimensionally and the finishing consists in polishing using a type of wax called "insect wax."