OSAKA SENSHU Kiri Tansu (Paulownia Chests)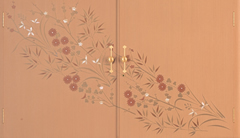 Sometime during the 18th century, farmers began making boxes and other simple pieces of cabinetry during the off-season using locally obtained paulownia and cork-tree wood. This cottage industry grew by leaps and bounds after the middle of the 19th century and is still thriving today.
This craft uses quarter-sawn boards of paulownia wood, which are pieced together using wooden pins and a variety of joints, after which the surfaces are polished and lightly colored.

Because paulownia is air-dried and seasoned for one to two years, impurities tend not to appear on the surface. Solid boards with a thickness of 20 mm or more are used to make the drawer fronts and doors. The wood is quarter-sawn to reveal the tightly packed woodgrain. The finishing is particularly fine and demands a great deal of skill. These techniques ensure that, if treated well, this high-quality furniture will last for a hundred years or more.
Feature
Because the paulownia wood used for these cabinets is allowed to dry naturally over a period of 1 to 2 years, the surface is completely free of impurities. Solid boards with a thickness of 20 mm or more are used. On the front, straight-grained boards with wood fibers running parallel to the longitudinal axis are given a beautiful appearance using the advanced technique known as "hagi processing."
How to make
First, each part is classified according to size and the paulownia boards are cut and adjusted by width. Then, the location of each board is decided. "Hagi processing" is a technique in which smaller pieces are joined with their woodgrain aligned to form a single wide board. "Kumite" is a joining technique in which the parts are assembled using wooden joints rather than nails or screws. A special method is used to color the products that prevents fingerprints or dust from sticking to the wood.