Kishu Paulownia Chests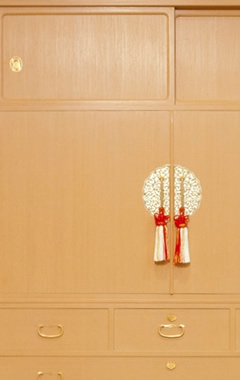 At the end of the Edo period (1600-1868), the tower of Wakayama Castle was destroyed when it was struck by lightening and much of the furniture was burnt to ashes. Records show that when the castle tower was rebuilt four years later, the chests and other cabinets, which had been lost in the fire, were remade. Further more, old books and chests dating back to the mid-19th century have also been discovered in town houses all over Wakayama Prefecture.

Paulownia (Paulownia Sieb. et Zucc.) is highly suited for the making of chests, wardrobes and cupboards, being both soft and light, and possessive of a pale silver beige coloring and an elegant, beautiful grain. Kishu Tansu is also known for its meticulous workmanship and jointing called arihozo.
Feature
Paulownia wood has an elegant pale-yellow bark which makes it the ideal material for beautiful, soft, light furniture like dressers, cabinets, etc. Wakayama is renown for very fine and precise handicrafts built with techniques such as kumite joining, etc.
How to make
After impurities have been removed and the paulownia wood has been allowed to dry naturally, pieces of the required width are peeled off. At the time of planing the boards and assembling them into boxes, the "dovetailing" method of making tenons and grooves which has been transmitted since ancient times is used. Then, when the body, the drawers and the door are assembled, each part is machine-finished. Finally, all surfaces are finished using techniques that bring out the beauty of the wood such as dyeing using a solution made with the yashabushi (alnus firma) natural dye and wax-polishing.