EDO Oshi-e (Embossed Cloth Pictures)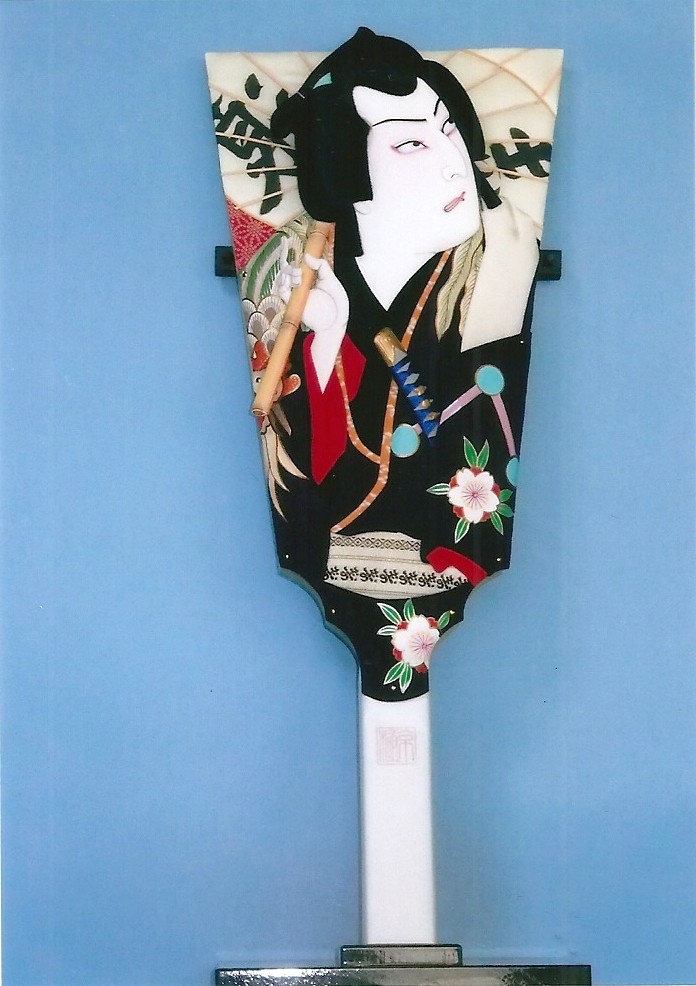 Since the Edo era, a Lunar New Year Fair was held in Asakusa, where a large number of Edo Oshi-e Pictures on Embossed Fabric were created. However, due to evacuations necessary after the Great Kanto Earthquake and wartime damage, many producers also reside in neighboring prefectures. In the past, there was a small theater in Asakusa called Edo-za. Here, the ideas behind the clothing, decoration and customs of kabuki intermingled with the world of Japanese drawing and painting, developing to make the Edo Oshi-e of today possible. Oshi-e are used to decorate battledore rackets, portraits, picture frames, folding screens and hand-held fans.
Feature
Edo Oshi-e were created in earnest from Nihonbashi to Asakusa in Tokyo from the late Edo era. They turned ukiyo-e woodblock prints into pop art, created by putting printed figures or facial features on silk goods using Japanese painting techniques. Edo Oshi-e often feature portraits of Japanese actors, but can also be created to depict realistic imagery, caricatures, landscapes, and plants and animals. The unique features of the fiber of the cloth used as base material really shines through in the final product. Featuring Japanese actors on Edo Oshi-e really took off due to the influence of Kunichika Toyohara of the Utagawa school of ukiyo-e art. These portraits are notoriously hard to create without deep knowledge of how each actor's clothing was worn, how they balanced color schemes in their outfits and how they wore their hair.
How to make
A rough sketch is drawn on pattern paper with ample margin left for pasting the piece onto the base, which is created by pressing the pattern paper against a thick piece of paper. Then, the thick piece of paper is bulked up with cotton and wrapped in silk fabric. The separate parts of the final piece are combined together with Japanese paper acting as masking to protect the final piece. When drawing facial features onto the piece, the Oshi-e is smoothed out using a solution for stiffening textiles and the base is covered in whitewash before pigments are applied. Clothing patterns are created by using glue, whitewash and pigment applied with a brush, adjusted according to the fabric used. Edo Oshi-e is used on a wide variety of products, from battledore rackets to picture frames, each with different levels of cotton stuffing and final construction.