Koshu Lacquered Deerhide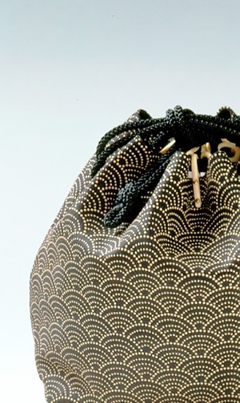 Deerhide craft products were being made in the area centered on the city of Kofu in present-day Yamanashi Prefecture during the 19th century. By the end of the same century, it is known that deerhide draw-string money bags and purses were well known among people at large as reference is made to them in Tokaidochu Hizakurige, a humorous book published in the 19th century.
Such bags, pouches and purses and other fashion accessories are still being made today. They are soft, strong and light and a fine pattern in natural lacquer is usually applied.

They lose none of their appeal the more they are used and gradually become much loved possessions.
Feature
Koshu inden pouches, made of soft, light and durable deer leather, and coated in a decorative lacquer, are a product that is more comfortable and loved the more it is used.
How to make
There are two primary method for making Koshu inden pouches: 1. After dyeing the deer leather, only the necessary amount is cut while taking painstaking care to avoid any damage to the leather. The lacquer pattern is then applied using a stencil, and finally the leather is sewn into a pouch. 2. After treating the deer leather with a hot iron, it is stretched and bound across a drum. Straw is burned to smoke the leather, decorating patterns are applied, and then the leather is sewn into a pouch.