BANSHU Kebari (Fishing Flies)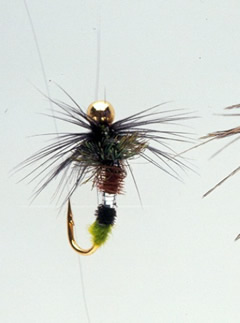 The techniques of this craft were introduced to Banshu from Kyoto toward the end of the Edo era (1600-1868). Local farmers began making hooks and flies in their spare time, preserving and developing the craft over the years, while gradually perfecting each type of hook. These fishing flies won a number of prizes at expositions held during the late 1800s and, as a result, Banshu fishing flies earned the acclaim of many fishermen.

The construction of a fishing fly must take into account various factors, including the fish and its habitat as well as the season and the weather. Consequently, more than 1,000 different types of fly have been developed. Requiring the utmost skill to produce, the finished piece perfectly mimics an insect in the water. Today, Banshu is the leading producer of fishing flies in Japan.
Feature
When making a fishing fly, it is important to consider various factors, including the type of fish type, its habitat, the season and the weather. As a result, more than 1,000 different types of fishing flies have been created. These lures are magical objects created using skilled craftsmanship to imitate aquatic insects, decorated in an alluring array of colors.
How to make
First, feathers from several types of birds are wrapped around a hook less than 1 cm long and fixed in place with silk thread. Next, additional layers are added from the tip to the base to increase the size. The lures are completed by making a lacquer ball and attaching gold leaf to create the illusion of an aquatic insect ready to fly away at any moment.