Fukuyama Koto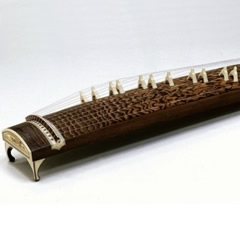 It seems likely that the making of Fukuyama Koto started at the time of the erection of a castle at the beginning of the Edo period (1600-1868) in Fukuyama, which is now a city in Hiroshima Prefecture. Craft industries flourished in castle towns during the Edo period, and with encouragement from the feudal lord at the time, both accompanied and unaccompanied songs were very popular in Fukuyama.
In the latter years of the Shogunate and right through the Meiji period (1868-1912), superb koto players from Fukuyama appeared and trained many budding musicians. It is perhaps, therefore, little wonder that koto from this old castle town gained such a good reputation and production of these beautiful flat harps was quick to follow.

Well seasoned paulownia (Paulownia Sieb. et Zucc.) of the very best quality is used to make these instruments which are brimming over with exquisite craftsmanship evident in the extremely detailed work. The superb tone, the beautiful grain on the soundbox and the splendid decorations are a product of the technical brilliance of the highly experienced makers of the koto.
Feature
These articles are made of the finest dry paulownia wood processed with exquisite care so that even the most minute details shine with the beauty of craftsmanship. The excellent tone, the beauty of the shell's grain and the elegance of the decorations are born out of the expert hands of experienced koto craftsmen.
How to make
The koto manufacturing process starts with the selection of the suitable pawlonia raw wood which is then dried over the course of one year. This is followed by the gouging, carving and burning of the shell, by the application of the decorations and the gold leaf and by the mounting and adjustment of the metal fittings. Most of these stages will be completed by the hands of skilled koto craftsmen working with great care.