YAME Chochin (Lanterns)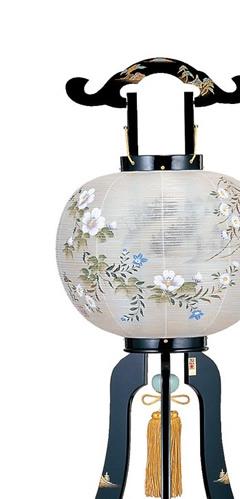 It is thought that Yame paper lanterns originated at the beginning of the 19th century with the painting of simple decorations on a rudimentary form of paper lantern. By the middle of the century, great advances had been achieved in the design, leading to a revolution in their production. By the end of the century, lanterns had come to occupy an important position within the local industry.

Yame paper lanterns are characterized by a number of features. First, a single spiraling piece of bamboo is used to construct the frame. Thin, locally made washi paper is used to make the interior of the lanterns more visible. Finally, realistic depictions of plants, animals and landscapes are painted on the surface. Retaining a time-honored simplicity and combining locally developed techniques with those introduced from elsewhere, Yame produces a wide variety of lanterns. Items produced today include traditional styles and more modern lanterns for the summer Obon festival, which are shipped all over the country and the world.
Feature
The frame of Yame paper lanterns is made from a single spiraling piece of bamboo and is wrapped in semi-transparent washi paper. This delicate appearance, along with images of nature painted on the surface, creates a soothing impression perfectly suited for summer. The techniques cultivated in Yame live on today in both traditional lanterns and more modern lanterns produced for Obon festivals. Renowned for their elegance, Yame paper lanterns are the top-selling such product in Japan and are also shipped worldwide.
How to make
The frame is formed by wrapping the bamboo in a spiral direction around the mold. Glue is applied to the frame and then paper is affixed, with any overlapping areas cut away. The mold is removed after the glue dries. Designs are painted by hand. Finally, the lantern is coated with lacquer, and the upper and lower fittings and accessories are attached.