Miyako Fine Ramie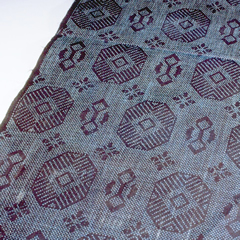 Four hundred years ago, a boat carrying Okinawan tributes was caught in a typhoon. A man, who happened to be on board from Miyakojima called Sugamayonin Shin'ei, heroically dived into the sea when the boat was about to sink and repaired the damage thus saving the lives of all the crew. Recognizing his bravery, the King of Ryukyu made him a monk. In return, Shin'ei's wife was overjoyed and lovingly wove a piece of cloth to give to the King, and it was this cloth that is said to be the origin of Miyako Jofu.

It is a linen cloth but with its very fine threads and very precise ikat patterns, the finished cloth is so smooth that it looks as though it has been coated with wax. It has a wonderful cool, light texture and wears so well that it is said to last three generations.
Feature
Although Miyako Jofu is a fabric made of hemp, it has thin thread, refined pattern and smoothness as if they are waxed. It is superior in air permeability and also durable, famed to last for three generations.
How to make
Miyako Jofu is made from a kind of hemp called ramie. Fibers are stripped from the plant and turned into threads. The threads are dyed by kasurijime (ikat dying) according to the design. Ryukyu indigo is used to dye Miyako Jofu. It takes 2 or 3 months for weaving to complete, then the fabric is beaten and finished.