Ryukyu Ikat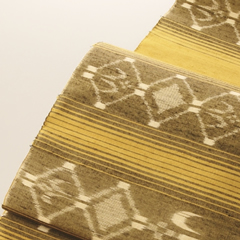 The roots of this cloth go back to the 14th and 15th centuries when there were exchanges and trade with China and countries in South East Asia. These kimono cloths are mainly a kasuri or ikat type with repeated patterns of a tropical flavor. Despite its long history, it was not until about 1920 that a fully fledged center for weaving was established. Since then traditional skills and techniques peculiar to this weave have become more widespread in use and continue to this day.

Many of the designs are named after animals and plants and other natural forms found in Okinawa and local dialect names are still in use. The main yarn is silk and besides natural dyes some chemical dyes are also used. In the main, cloth for kimono is being woven and a cloth especially suited to summer called kabejofu is also being produced.
Feature
Most of its patterns are based on animals, plants and nature of Okinawa and named by Okinawan dialect. Silk is predominantly used as its raw materials. Plants and also chemical dyes are used for dyeing. The textiles are mainly produced for clothings including kabejofu for summer time.
How to make
Both warp and weft threads are ikat dyed according to a predetermined pattern. After the threads are unbundled, they will be woven on takahata by a hand shuttle.