Yaeyama Ramie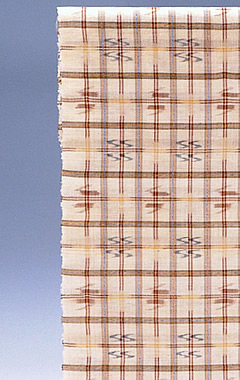 Satsuma was one of the old provinces occupying what is now the western part of Kagoshima Prefecture at the southern end of Kyushu. Forces from Satsuma invaded Ryukyu in 1609 and the compulsory weaving of Yaeyama Jofu to pay a poll tax that was levied, in turn led to an improvement of techniques.
After the tax was abolished in 1907, a union was set up and the weaving of this cloth prospered as an industry. Weaving ceased for a time due to World War II but was revived gradually after the conflict was over.

Using patterns which are common to other ikat weaves in Okinawa, the yarn is a hand spun ramie, or china grass. Being a hand-woven cloth, there are slight differences in color and pattern and no two pieces are the same. It has a light touch making it an ideal cloth for a summer kimono. The main products are kimono fabrics, obi sashes, wall hangings etc.
Feature
Ryukyu kasuri, also common to other Okinawan clothings, are used as its patterns. Yaeyama Jofu is made of hand-twisted ramie weft, dyed with plants and hand woven. This makes subtle difference in every clothings. It is suitable for summer as they are smooth and gives cooler impression.
How to make
Ramie, which can only harvested few times a year, is used for its material. Dying methods called tekukuri and nassen is well-known nationwide. It is said that Ishigakijima is the northern limit to use Kuru for dying. It is finished by soaking into seawater for five hours.