KUTANI Yaki (Porcelain)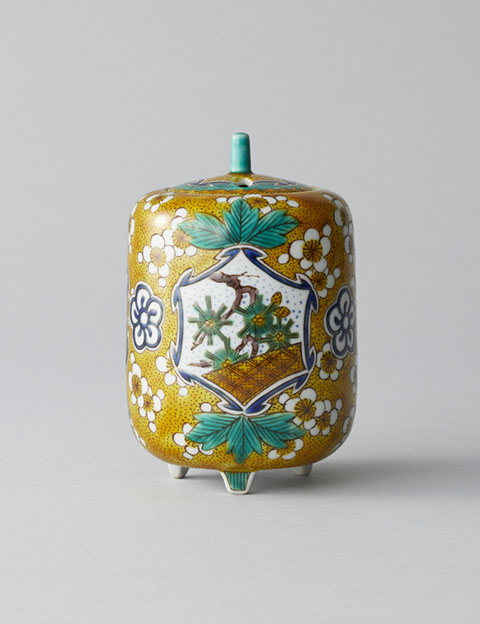 The first porcelain to be produced in the Kutani area was in the 17th century, when a member of the Kaga clan, Goto Saijiro, who had studied the porcelain techniques in Arita in northern Kyushu, set up a kiln making Kokutani wares with a suitable porcelain clay discovered in the area.
While Kokutani or "old Kutani" wares combined the generosity and splendor of the Kaga clan's culture, it developed into a unique form of porcelain with a strength and boldness all its own. At the end of the 17th century, however, production suddenly ceased. Firing did not begin again until the beginning of the 19th century, when Kutani Yaki was revived. Many different kilns appeared, each with their own unique design style helping to establish a production center. There was the Mokubei style of the Kasugayama kiln, the Yoshida kiln which tried to echo Kokutani wares, the fine drawing in red of the Miyamoto kilns and the red and gold highly-ornate designs of the Eiraku kiln.

The true intrinsic beauty of Kutani comes from its multi-colored over-glaze enamel images. It is characterized by heavy use of overlaid Japanese pigments, namely red, green, yellow, purple and Prussian blue, and bold outlining. The way that the enamels appear even more brilliant because of the restrained coloring of its slightly bluish background is unique to Kutani. Today, different pieces of tableware are made in a number of Kutani styles, along with flower vases, ornaments and beautifully adorned sake flasks.
Feature
Kutani Yaki has multicolored pictures and an inherent, distinctive quality. Gorgeous and openhearted linework is colored with green, yellow, red, purple and navy Japanese pigments, producing a dignified brilliance characteristic of Kutani Yaki. The bluish porcelain unique to Kutani helps to bring out the gentle colors of the pictures.
How to make
Local pottery stone is used to make the clay used in the porcelain, which is formed using a potter's wheel or casting method to create the unglazed work. Detailed pictures are applied before being colored in. Powerful black and white pictures like ink paintings are gently applied, including colors that are not yet apparent. Through firing, the colors appear brilliantly, transforming into glass and bringing vivid color to the white porcelain. The drawn lines, sharp brush techniques and dignified pictures are what make Kutani Yaki unique.