OTANI Yaki (Pottery)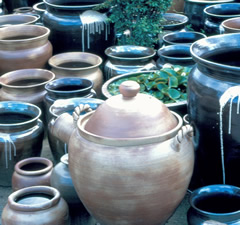 When the head of the Tokushima fief ordained porcelain in the style of Nanking and Karatsu Yaki to be produced in 1780, craftsman were brought in from the island of Kyushu and a kiln was built.
Work ceased quickly, however, because the right kind of clay was not available in the immediate vicinity and many of the pieces were damaged during firing. Then in 1784, Heijibei Nohda employed some potters who were making Shigaraki Yaki to learn their techniques, and an ascending kiln was built in the village of Otani, modern-day Ohasa-cho, Naruto City. The pottery that was produced marked the beginning of what is now known as Otani Yaki. At the end of the 19th and in the beginning of the 20th century, large jars for indigo dye were being produced. And during the 1920s and 1930s, the war led to a number of changes that resulted in a wide range of goods, including large jars and smaller household items still produced today.

Otani Yaki has been in production for over 200 years and is one of the most representative forms of pottery on the island of Shikoku. A special wheel is used to make the large pots for water lilies and even larger jars that an adult human could easily fit into. While one person lying on their side turns the wheel with their feet, another gradually forms the piece with large coils of clay. This way of forming pots and jars is well-known and the ascending kilns they are fired in are the largest in the country. Otani Yaki sake cups are also unique—formed with upmost care on a regular potters' wheel and quite robust despite being very thin.

A number of clays are used for Otani Yaki. A major one is Himeda clay, alongside Sanuki and Hagiwara clay, a stratified clay rich in iron. Combinations of limestone, wood ash, feldspar, silica and iron are used for the glazes, which are either applied by dipping the piece in glaze or dripping glaze onto it. All of the production is done by hand and a number historical techniques and tools are used to form and decorate pieces, including a wheel, a simple molding tool used to form a pot or jar from the inside, a board placed on a wheel to assist in the making of large pots and jars, a rough cloth, a plane, a piece of leather, a thread to cut the clay, a brush and a ladle.
Feature
Otani Yaki has been made in the Ohasa-cho district of Naruto city in Tokushima Prefecture for about 200 years and is one of Shikoku's most iconic pottery traditions. Large jars and bowls for water plants that can reach the height of an adult human are made using giant ne-rokuro potter's wheels (manned by two people, one in charge of molding while the other lies and turns the wheel with their feet) and are fired in a large ascending kiln said to be the largest in Japan. In addition, thanks to the elaborate turning techniques, Otani Yaki sake cups are quite robust despite being very thin.
How to make
Otani Yaki's main materials are clays called Hagiwara, Sanuki and Himeda, a sedimentary clay rich in iron. Glazes used are a combination of Himeta clay, lime, wood ash, feldspar, silica and iron, which is applied by dip or flow coating. The main stages of Otani Yaki include crushing, sieving, levigation, kneading, mixing, molding, drying, green-ware glazing, bisque-firing, glazing, kiln-loading, firing and inspecting, each of which is performed manually using traditional tools like potter's wheels, trowels, kame ita, cloth, planes, leather, cut yarn, brushes and ladles.