Tsuboya Ware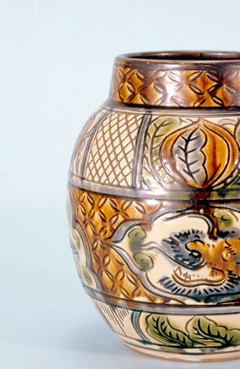 In the second half of the 17th century, the scattered potteries of Chibana in Misato, Takaraguchi in Shuri and Wakuta in Naha were brought together by the King of Ryukyu and a new center was established in what is now Tsuboya.

Okinawan pottery or yamuchin is divided into two large categories, Joyachi and Arayachi. Joyachi is a glazed pottery with brightly colored patterns characteristic of Okinawa, while Arayachi is unglazed. The unglazed ware is also called Nanbanyaki and the products such as sake flasks and water jugs are relatively large. Apart from these, the shiisaa, a mythical lion that is placed on roofs in Okinawa is also made along with other pieces of tableware special to these sub-tropical islands.
Feature
Yachimun (pottery in Okinawa) is roughly separated into Joyachi and Arayachi. Joyachi are glazed pottery mainly used as tablewares. Its colors and patterns are unique to Okinawa. Arayachi are non-glazed and relatively large pottery used to make water/sake jars. It is also known as Nanbanyaki.
How to make
Techniques used include wheel throwing, casting and molding. Keshogake techniques such as hitashigake, nagashikake, furikake are used to sprinkle a solution of water and white soil to make a foundation, and then it is decorated with kakiotoshi, zougan and other techniques. Joyachi is baked at 1,200℃ after glazed which makes product with unique Okinawan taste. Arayachi is baked at 1,000℃ without glaze.