Ryukyu Lacquer Ware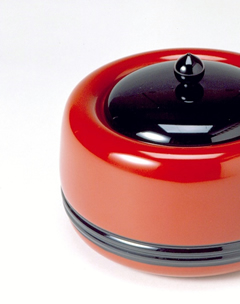 It is thought that Ryukyu Shikki developed with the sending of tributes to China that began in the 1300s. In 1609, the court of Shuri established a lacquer ware workshop and this led to the production of goods which were both technically and artistically of a high standard. In addition, there was also a private industry centered on the Wakasamachi district of Naha.

Most of the Ryukyu Shikki is of a plain type with a polished final coat in either vermilion or black. There are various decorated forms such as Ryukyu's own tsuikin technique. Other techniques are chinkin, maki-e, and raden employing mother of pearl. The core material is made from such woods as deigo (Erythrina variegata var. orientalis), snowbell (Styrax Linn.) and bean tree (Melia Linn.), and pigs blood is used as an undercoat. Lacquer in its natural state is used for the final coat and the brilliance of the vermilion in particular is unsurpassed. There are now making the decorative trays, a variety of bowls, plates and cups.
Feature
Most Ryukyu Shikki are vermilion or black, lacquered with hana-nuri method. There are also a variety of techniques to apply ornaments such as Tsuikin, Chinkin, Hakue, Raden etc. The base is made of native trees such as Erythrina (deigo), Styrax or white cedar. The foundation is done by tonketsu (swine blood) and other materials. It is especially distinctive by its magnificent vermilion color.
How to make
Tsuikin is a unique technique used to color Ryukyu Lacquerware. A clay-like mixture of pigment and lacquer is thinned, shaped and then fixed to the bowl, then refined by finishing.