Hakone Wood Mosaic Work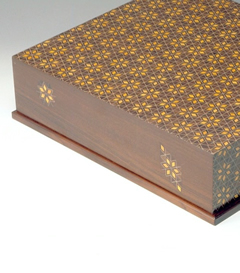 This form of marquetry began at the post town in the mountains of Hakone about the middle of the 19th century. At first it was mainly an unstructured form of marquetry or one using a simple pattern. Then in the 1870s, marquetry skills from around Shizuoka were introduced and now Hakone Yosegi Zaiku is well known for its extremely fine handwork and as being the only craft of its kind in Japan.

The mountains here are one of the few places in Japan where there are so many different species of trees. The rich variety of timbers they yield are expressed in the repeated geometric patterns of this marquetry making the most of the natural color of each wood for such things as boxes, coasters, trays and a number of other household items including small items of cabinetry.
Feature
The mountains around Hakone are famous in Japan for their diverse variety of trees. Hakone yosegi zaiku expresses the beautiful natural colors of Hakone's natural abundance in a wide variety of geometric shapes and patterns. The mosaics are used for boxes, drawers, bureaus, teacup saucers, and even personal accessories.
How to make
First multiple blocks of wood are cut into the same geometric shape. Each block is then sliced to produce the individual mosiac pieces. The pieces are then assembled into the full mosaic pattern, creating a Tanegi board. Deep expertise and experience is required to produce the Tanegi board, as each individual block must be cut in exactly the same shape at precise angles, and then glued perfected to produce a seamless mosaic pattern. A specialized plane is then used to scrape paper thin slices called Taneita from the Tanegi board, each containing the same geometric pattern. The paper thin Taneita sheets are then glued to boxes and other wood joinery products for decoration. Recently a new technique has been created which allows the Taneita boards to be turned directly into boxes, or into wood turned products such as plates and bowls, further expanding the possibilities of Hakone yosegi zaiku.