Matsumoto Furniture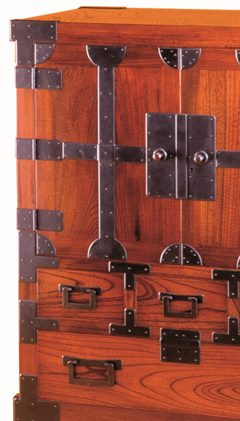 Matsumoto Kagu developed from one of the trades set up around the time that Matsumoto in present-day Nagano Prefecture became a castle town in the latter half of the 16th century. It was not until the end of the Edo period (1600-1868), however, that the production of household furniture actually began.
At the outset, chests, china cupboards and tables were made to meet the needs of those living in the castle town and its surrounding area but with the development of transportation, the furniture began to be sold further afield and the town became well known nationwide as a furniture production center.

Work of the finest craftsmanship is employed in the making of a broad range of products made in solid wood and assembled using traditional jointing techniques. It is extremely sturdy furniture and even the work on those parts which are not directly visible from the outside is very precise. Wiped on with a cloth, the finish is often a coating of natural lacquer, which shows off the beauty of the grain and the warmth of the wood. Various kinds of chest and shelving are now produced along with tables of various sizes.
Feature
Using only solid, natural wood, Matsumoto kagu is assembled according to traditional methods with the greatest skill and care. Through devotion to the finest details even for parts that cannot be seen from the surface, a sturdy and long-lasting piece of furniture can be produced. The finishing lacquer used further enhances the natural beauty and warmth of the underlying wood.
How to make
Matsumoto kagu is made from natural wood from a variety of trees including Japanese Zelkova, oak and cherry-birch. The entire process of building the furniture is handled by a single craftsman. A wide variety of traditional wood joining methods have been passed down to be used in the assembly of the piece. The finishing lacquer is applied in layers dozens of times, bringing out a deep, profound beauty in the underlying furniture.