Nagiso Turnery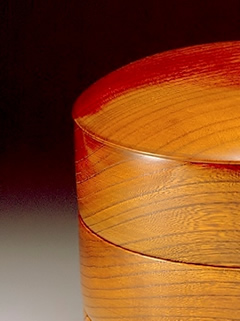 According to an old document found in Nagiso, turnery began here sometime during the first half of the 18th century, when unfinished forms for trays and bowls were being sent to Nagoya and Osaka. For this to happen, it must be assumed that lathes were first turning sometime before.

One of the particular merits of this turnery from Nagiso is the way that the work fully expresses the qualities of the wood, making the most of the natural grains in an unassuming fashion, while also retaining a handmade look, each piece making fine use of the minute variations of grain and color of the selected woods. Trays and bowls of many kinds are now principally being made.
Feature
Nagiso rokuro zaiku wood turning products bring out the fully pristine beauty and warmth of the natural wood from which they are made. The product to be made from each piece of wood is carefully decided to match with the wood's qualities, and the faint changes it will make over time.
How to make
First, the tree bark of the wood that will be used as the craft material is stripped. A brush is used to clean all dirt from the bark, and then the condition of the bark's surface and the surface of the cut is carefully checked. In this way, the craftsman can immediately know when the tree was cut, where it was grown, its age when cut, the condition of the tree, how the wood will continue to age, the fine variations of its color, and the unique properties of its wood grain. The craftsman can then decide how to best bring out the beauty of the wood grain and the fundamental shape of the tree in the product that will be made, and proceeds to create that image within the wood at hand.