Iiyama Household Buddhist Altars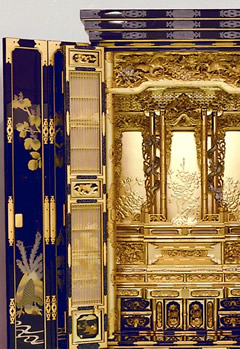 The making of Buddhist household altars became firmly established in the thriving religious community of Iiyama during the beginning of the 17th century. All of the work was done in the area by different craftsmen and then the whole thing was assembled.
At the center of this network of skilled workers were specialist stores, which were both finishers and wholesalers of the altars. The strong belief in the Buddhist faith of the people of Iiyama, the ease with which raw materials could be obtained, and a suitable climate in which to build these complex pieces of cabinetry have all contributed to the sustained production of the Iiyama Butsudan.

A generous use of wood makes the Iiyama Butsudan heavy. The lacquer is of an extremely high quality and the richly multicolored decorative lacquer techniques employed help to give these altars a rich, powerful beauty. Discoloring and general aging can easily be dealt with as all the parts can be disassembled. Several styles of altar are made to meet the requirements of the different Buddhist sects.
Feature
Began in the latter half of the 17th century. Materials used include pine, cedar, magnolia, and more. Mainly buddhist altars for the Jodo Shinshu sect are produced, using such traditional techniques as honkumi-kiji, yumi-nageshi, hijiki-kumimono of Kuden, gold leafing using tsuyadashi-oshi, and more.
How to make
The work includes preparing the wood for the exterior, the "kuden" roof of the inner sanctuary of the altar, carving the flower, bird, etc. ornaments, making the metal fittings, as well as "makie" gold and silver lacquer decorations, gold leafing, painting, and assembly. The work is split into eight departments.