Yamefukushima Household Buddhist Altars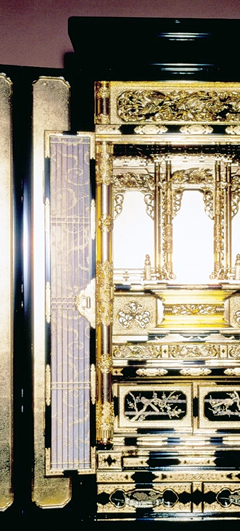 One night in early 19th century, a cabinet maker dreamt about an extremely beautiful, majestic Buddhist building. Inspired by his dream, he enlisted the help of work mates and together they built a Buddhist household altar. This is the story behind the origins of the Yamefukushima Butsudan.
It was not until about the middle of the 19th century, however, that production techniques became established and altar making in Kyushu really got its start. By the end of the Edo period (1600-1868), the craft had developed into a small industry employing 18 finishers, 14 craftsmen making the fittings, seven sculptors, seven sculptors making images of the Buddha and ten specialists preparing the wood needed.

In order to maintain the quality and particular character of the Yamefukushima Butsudan, almost all of the work is done by hand using materials that have traditionally been used since before the Edo period. Large areas of the altar are gilded, bringing out its best features.
Feature
Most parts used in Yame Fukushima Butsudan are handmade and remains unchanged from what has been used before Edo period, to maintain the quality and the taste of the altar. Its characteristic feature is the gold leaf applied almost entirely to the altar.
How to make
There are more than 80 steps in total in seven sections to create an altar: engraving, metal fitting, painting, lacquering and assembly. Most parts, except a few in wood sculpture, Kuden and the wooden base, are handcrafted.