Uchiyama Paper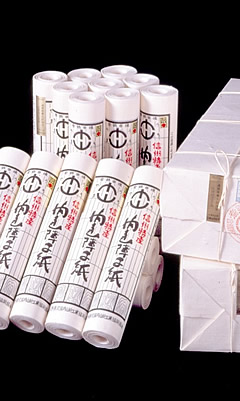 Early in the 17th century, Hagiwara Kiuemon, a resident of a small village in Uchiyama district went to learn how to make paper in Mino, itself famous for its handmade papers. On returning home, he began making paper and from these simple beginnings, the craft flourished in this area where the heavy snowfalls have contributed to the techniques of this fine handmade paper.

Uchiyama Gami are exclusively made from paper mulberry or kozo (Broussonetia kazinoki), because of its strength and suppleness. The resulting paper is equally strong, supple, breaths and holds moisture. Besides this, it does not discolor in sunlight, making it ideally suited for use on the sliding shoji screens of a Japanese house. Its durability also makes it ideal for storage purposes and for documents that need to be preserved.
Feature
Kozo, the strongest among all materials used to make washi, is used. No pulp is used. 100% kozo paper has superior strength, breatheability, and moisturizing capacity. It is ideal for use in shoji screens, as it doesn't fade in the sun, and is strong and long-wearing. It is also perfect as a paper for long-term preservation.
How to make
There are 20 - 25 steps in producing Uchiyama gami, from the kozo tree to the final product. Important steps in making high quality Uchiyama Paper include the preparation of raw materials, papermaking, and drying. In particular, the act of papermaking is an important skill that determines whether the final product will be of acceptable quality. With "nagashi-suki", the paper solution is scooped from piercingly cold water using a constant back and forth, right and left motion to make the paper. Another important aspect is preparation of the water used for ease of papermaking.