Suruga Hina Doll Fittings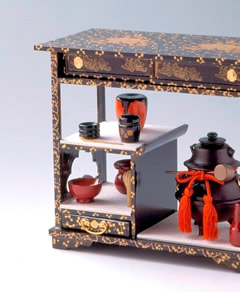 Paraphernalia for the Hina Matsuri or doll festival was already being produced in Suruga in the 16th century when Imagawa was feudal lord of this province that corresponds to present-day Shizuoka Prefecture. With the construction of Kunosan Toshogu shrine and the Asama Shrine, many advanced craft techniques were introduced from all over the country and the production of Hina paraphernalia developed as part of the lacquer ware industry which, benefiting from the warm humid climate of the area, became established during the Edo period (1600 -1868).
Being located half way between the major centers of Edo (Tokyo) and Kyoto was another advantage, which furthered the growth of this craft. As all the processes involved are assigned to skilled individuals such as wood turners, lacquerers, maki-e gold and silver lacquer decorators and those making fittings, it is possible to produce a great number of items, even though the articles are all hand crafted.

Much of the decorative work is arabesque leaf patterns and glowing images from nature done in maki-e gold and silver lacquer decorations. Everything is done with great accuracy right down to the finest details of turnery and cabinetry. A needle box small enough to sit on the palm of the hand, for example, even has drawers that work.
Feature
Arabesque patterns, images of flowers and birds, mountains and water landscapes, and other lacquer decorations adorn the Suruga Hinagu doll furniture which is used as decorations for Doll's Day (hina matsuri). Even the finest details are reproduced in miniature, using such techniques as joinery and lathe work. For example, even a sewing box that can fit in the palm of the hand will be a proper box with real working drawers.
How to make
Each step in the work is divided and executed by seasoned craftspeople, and the manufacturer brings these steps together, finishes the items, and makes them into commercial products. The work begins with joinery and lathe work, followed by lacquering, gold or silver lacquer decorations, affixing metal fittings, and finishing.