Nagoya Household Buddhist Altars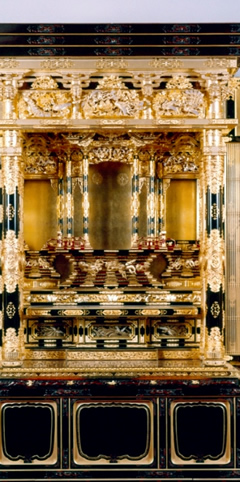 Fostered by a strong belief in Buddhism, the making of these altars developed early in the area and even at the beginning of the Edo period, specialist stores dealing in home altars already existed. Skills were collectively honed by the groups of craftsmen that were created after wholesale groups were established and traditional methods and techniques were cultivated.
In 1876 a union was formed and Nagoya Butsudan were shown at industrial exhibitions that were held up and down the country and production increased.

These altars are made in a number of styles to suit different Buddhist sects. Consequently, there is a great deal of pride attached to the use of sound techniques in the making of such things as an altar expressive of the calm beauty of paradise, or with a tranquil atmosphere consistent with Zen. Functional considerations are not forgotten as a drawer is fitted in the base to store such things as candles and other things associated with the altars.
Feature
Nagoya Butsudan is made in a variety of styles to suit different Buddhist sects. From the embodiment of the elegance of the Pure Land Sect, to subdued works that call Zen Buddhism to mind, the sure craftsmanship shines through with each one. Further, another characteristic of Nagoya Butsudan is that it is very practical in that the implements can all be stored inside parts like the supporting platform.
How to make
Specialist craftspeople are in charge of each facet of production. There is the kiji-shi, shogon-shi, chokoku-shi, naigai-kazarikanagu-shi, nushi, emaki-shi, hakuoshi-shi, and more. The butsudan are assembled using mortise and tenon joints. Even the smallest details are finished with a high level of skill and attention. The altars can be dismantled and sections repaired with a restoration method called "osoji".