Hikone Household Buddhist Altars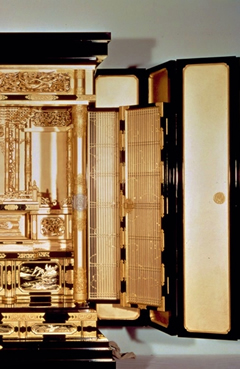 Gradually during the 18th century, highly skilled armorers, lacquerers and other artisans were encouraged by the Hikone clan to work on the making of household altars, at first more or less as a ""cottage industry"". Subsequently with the rise in popularity of Buddhism and the patronage of the Hikone clan, a production center became established, forming the foundations of the small craft industry as it exists today.

While the household altars built in and around Hikone are certainly large, grand and imposing, they still retain a dignified air even when scaled down. Function, too, is not overlooked as a stationary box and stand are incorporated to house essential paraphernalia associated with the use of one of these altars.
Feature
Hikone butsudan is large Buddhist household altar possessing an exquisite and solemn feel and its characteristic is that even the small-scale one never give the feeling of being boxed in. Furthermore, they are cleverly designed for convenient daily use and integrated with filing cabinets and stands for storing the necessary tools and accessories.
How to make
Hikone butsudan is built in seven stages. 1. Creation of rough wooden base --- the body, the ceiling and the white wood pillars are made from cypress or cedar. 2. Shrine --- a roof to be attached to the interior of the altar is built. 3. Carvings--- the decorative parts, like the transom and so on, are made. 4. Painting ---- After the wooden base has been given a base coating with polishing powder, intermediate and top coatings of natural refined lacquer are applied, with polishing and drying being repeated each time; a polishing roiro (black) finishing (roiro-migaki) is given at the end. 5. Gold embossing ---- gold leaf is applied to the interior of the altar. 6. Creation of metal fittings ---- brass and copper plates are engraved and gold-plated. 7. Gold-sprinkled lacquering ---- gold powder, silver powder and shells are used to give the altars a luxurious air.